Augur Weekly - Impeachment, Debate, and How to Double your Money
A Look at the Week in Political Betting, Augur News, and More
---
Augur Weekly posts are public. If someone you know might like this content, please share!
---
Election Betting Roundup
Tis the season to roll up one's sleeves, hunker down with one's favorite political betting blogs, and get ready to profit.
The impeachment saga seems to be ending, or just beginning, depending on how you look at it. Those that bet on the 1st term and 2019 impeachment slept well this week after the House brought and approved two articles of impeachment against President Trump.
With the impeachment being a foregone conclusion, let's shift to the odds of a Senate conviction. In contrast to the new highs in impeachment markets, conviction markets are still indicating quite the long shot for the removal of the president.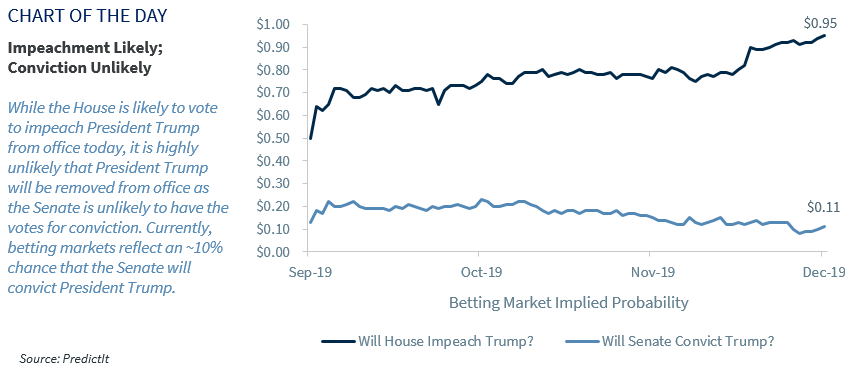 In fact, impeachment and the surrounding drama have seemed to have spurred the support of Trump for re-election. As you can see below, the PredictIt price for shares in his re-election has been steadily rising amidst this process.
---
If you've been following our good friend Ben over at the Augur Edge, he's been slinging hot predictions right out of the oven. In Tuesday's Edge, he detailed his inclination to buy shares of Amy Klobuchar in the DemNom and GenElection markets:
I bought Klobuchar YES shares in the Demnom market at ~3 cents and in the General election market at ~2 cents…I don't think she's getting the nomination, but I think she will bounce in coming weeks.
Well, in a matter of days, not weeks, Klobuchar's odds surged. Following Thursday's DemDebate in Los Angeles, where she was widely hailed as having a strong performance, her odds of the nomination have reached .08/share (+167%) and the presidency, .04/share (+100%). Great pick Ben, in the spirit of Christmas, we hope you don't stop gifting us these great tips. If you're into things like prediction markets and profit, go give Augur Edge a follow!
Moreover, Ben goes into detail about the relative benefits of PredictIt vs Augur. He lays out a whole host of the advantages of Augur, including one that addresses a problem I've been seeing often:

On Twitter, you'll find a graveyard of folk asking for markets that never materialize; whereas on Augur, one can simply make it themselves:
---
As a reminder, come Q1 2020, Augur will be the only platform for political betting with no limits, the lowest fees, and unbeatable odds.
To receive updates on Augur including this newsletter, sign up below:
Further Reading:
---
Around the Ecosystem
---
More on Augur
Augur v2: A Tour of the Prediction Protocol's First Major Upgrade
The Ultimate Guide to Decentralized Prediction Markets
Announcing the Augur v1 Cutoff
---
The Forecast Foundation has no role in the operation of markets, trades or actions created or performed on the Augur protocol, nor does it have the ability to censor, restrict, control, modify, change, revoke, terminate or make any changes to markets created on the Augur protocol. The Forecast Foundation has no more control over the Augur protocol than anyone else using Ethereum.
Thus, we do not seek to advise others on how to use the protocol. We encourage those in the community who are well educated on Augur to pay it forward and share their ideas for best practices, tips, fixes, etc with the larger community via Twitter, Discord, Reddit, Github, and other community channels. For more information regarding the role of the Forecast Foundation, check out the FAQ.